Complete your outdoor living space with an outdoor audio system. We keep it simple and provide only the best options for your needs. Whether you want a simple patio solution or a fully immersive backyard concert experience.
Every customers needs and wants are individual, therefore we start with an onsite meeting to see what solution will fit your needs and budget. We pride ourselves on delivering the best possible experience and that starts by listening to you!
All of our outdoor audio solutions are completely customizable and will provide superior sound quality. Some of the many features we utilize include:
Directional sound control
Discrete speaker location
Subterranean Bass
Multiple Input connections
After installing a professional grade outdoor audio system you'll wonder why you waited so long!
Our Outdoor Audio System Process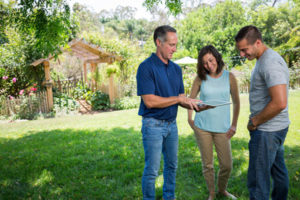 Our services begin when you reach out to us and schedule your complimentary outdoor services assessment. Our office will work with you to schedule a meeting and discuss your outdoor audio needs.
The consultation is all about you, your property, and your needs, and there is no obligation to buy. We'll tour your property with you and discuss your preferences, budget, and any concerns or questions you may have. During the tour we may also make recommendations based on your unique property that you may not even knows is possible.
Following our discussion, we will provide you with a design and/or outline of proposed work and an estimate for your consideration. We'll be honest and upfront and there won't be any surprises. The scope of every project is different, depending on the scope of your project and in most cases we may be able to provide everything during the consultation appointment.
Our installation process is our time to really shine! Our professional outdoor audio system installation team is thoroughly trained and will pay attention to every single detail. We use best practices during the installation to minimize damage to your turf and landscape. Once all components are installed we take the time to optimize and properly direct our speakers, providing you the best sound possible. Once we complete your installation we provide a walk through with you to review your new outdoor audio system.
Click any Pro Tech Outdoor Audio Solutions image below to view full size.