Pro Tech Lawn Sprinklers & Outdoor Services offers all your stormwater & drainage solutions for both residential and light commercial customers. Water can and will damage your home and landscape. Protect your investment by diverting excessive water away from foundations and landscapes.
Each property presents its own unique challenge and therefore requires its own individual solution. We are happy to meet you on site and review your concerns, provide you with the best solution for your home or business.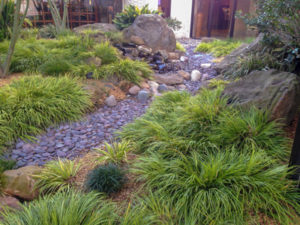 Some Drainage & Storm Water Solutions' techniques we use include, but not limited to:
Gutter Tie In's
French Drains
Dry Wells and Catch Basins
Dry Creek Beds (pictured)
Land Regrading and Swales
Refurbishment and Repair of Existing Pipes
Our Drainage & Storm Water Solutions Process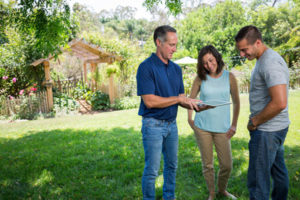 Our services begin when you reach out to us and schedule your complimentary outdoor services assessment. Our office will work with you to schedule a meeting and discuss your drainage, storm water and/or excavation needs.
The consultation is all about you, your property, and your needs, and there is no obligation to buy. We'll tour your property with you and discuss your preferences, budget, and any concerns or questions you may have. During the tour we may also make recommendations based on your unique property that you may not even knows is possible. Our goal is to provide the best solution for your unique situation.
Following our discussion, we will provide you with a design and/or outline of proposed work and an estimate for your consideration. We'll be honest and upfront and there won't be any surprises. The scope of every project is different, depending on the scope of your project and in most cases we may be able to provide everything during the consultation appointment.
Our installation process is our time to really shine! Our professional team is thoroughly trained and will pay attention to every single detail. We use best practices during the installation to minimize damage to your turf and landscape. Once we completed all the facets of your project we provide a walk through with you to review the work completed and review any maintenance tips you might need to know in to keep you drainage system working properly.
Click any Pro Tech Drainage & Stormwater Solutions image below to view full size.