Pro Tech Lawn Sprinklers Inc. is a New York State Certified Backflow Device Tester.
Our services include residential and commercial backflow testing.  Many municipalities require annual testing for commercial and residential customers. If you are unsure, please contact your local water provider.
If you don't know why you should test your backflow device(s), please read below…it's for your safety and the safety of your community.
First, we'd like to summarize what, why and how…but as your trusted contractor we have provided details below as well. New York State plumbing code has been in place for more than 30 years that requires the installation and testing of a backflow device on all lawn sprinkler and irrigation systems that are connected to any municipally proved water supply. The laws and codes are policed and monitored by local water departments and sometimes building departments. Until recently only installation of the required backflow devices has been enforced. With the enforcement of annual backflow testing we at Pro Tech Lawns Sprinklers Inc. have obtained and maintain our certification to test your backflow device. Because there are so many older systems and you are uncertain or question if you are up to code and have a safe lawn sprinkler system we are happy to provide you with the answers, we take your safety seriously.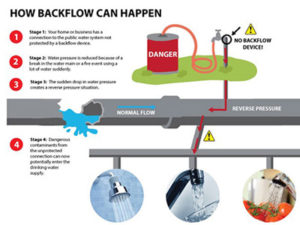 What is a Backflow?
A backflow is the reversed flow of water, from its intended direction. If backflow happens in your water system, it can contaminate your water source, making water consumption unsafe for you and your family. There are two main causes of backflow; back siphonage and back pressure. To prevent backflow, install a backflow prevention device. The installation of a backflow device is a requirement of NYS Plumbing Code. To prevent backflow and back siphonage from occurring, there are several types of these mechanical plumbing devices available to ensure safe water consumption. As a lawn sprinkler & irrigation contractor, we are well versed in the following backflow prevention units: DCVA (Double Check Valve Assembly), PVB (Pressure Vacuum Breaker), and RP/RPP (Reduced Pressure).
What is Back-Siphonage?
Back-siphonage is caused by negative, or reduced pressure in the supply piping. This reversal in water flow is not unlike drinking through a straw, and can contaminate your water supply. Back-siphonage can occur for a variety of reasons like: supply line breaks, increased demands (like fire-fighting), and undersized piping. It is vital to utilize a backflow prevention device on your irrigation system in order to maintain safe water consumption.
What is Backpressure?
Backpressure is the pressure that is greater than that of the municipal water system. It can occur when a non-potable supply is connected and operating at a higher pressure than the water distribution system. What creates these increases in pressure? Booster pumps, increases in boiler temperature, interconnections with systems operating at higher pressures, and piping elevated above grade can all be causes for increases in pressure.
Where is a backflow device?
A backflow device is installed inline from your irrigation water supply line. There are several acceptable devices or combination of devices, but they will always be inline with your lawn sprinkler/irrigation supply line. They may be indoors, outdoors, or both. Typically, in NYS, due to our weather they are indoors…but that is not always the case, if you are uncertain we are here to help.
How often should you test your backflow?
According to NYS, annually. It is your responsibility as the homeowner to have your device tested. As mentioned prior every situation is different, however failure to do so can result in a penalty and unsafe potable water in your home and community. If you are not under enforcement by your local water provider, here at Pro Tech we highly recommend you test your back flow device every 2 or 3 years. This is for your safety!
How do I know if a backflow test has been completed?
Once your test has been completed, we send a copy of your results to you by email, and forward an additional copy to the City for their files. In addition, the person preforming your test should provide a dated tag and hang it on your back flow device.
Do I have to be home?
Yes. In most instances the backflow preventer is located near the water meter
Testing And Repair
Upon failure of a back flow test the option of repair is possible. Some serviceable parts include internal seats, springs and moving parts which can be subject to wear and tear, fatigue and in rare situations blockage. However replacement is typically recommended, it is our experience that full replacement is the most cost effective solution. Simply due to the cost of parts and the requirement of a second test once new parts are installed.
At Pro Tech, we take your safety and water seriously. Ensure the safety of your potable drinking water and your household, have your backflow device tested. Call our office to make arrangements to schedule your testing today.