Residential & Commercial
Allow us to bring your outdoor living space to life. Now, more than ever before we are spending time at home. Adding a low voltage landscape lighting system to your home adds beauty and security. With Pro Tech we use professional quality products and work with industry leading vendors. As experts in our field we recognize every project has a budget, therefore we work closely with our clients to understand there needs and provide them with the best solutions.
The Finishing Touch To Your Outdoor Space
Already have a landscape lighting system, in need of updating or repairs? Pro Tech specializes in service, we don't just stop at the sale and installation like many other installers.
Services Offered:
LED replacement for Halogen Lamps (Bulbs)
Fixture replacement
WIFI or Bluetooth Controls
System troubleshooting
Every project is special and allows for many lighting design options, we work hard to hide the light source and provide a natural design. In some cases we are asked for something unique or provide a specific atmosphere. Listed below are some of the design elements we utilize to bring every project to life.
Lighting Techniques & Options:
Uplighting
Downlighting
Shadowing
Path Lights
Bistro Lights
Click any Pro Tech Landscape Lighting Solutions image below to view full size.
Our Landscape Lighting System Process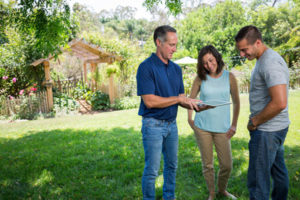 Our services begin when you reach out to us and schedule your complimentary landscape lighting assessment. Our office will work with you to schedule a meeting and discuss your outdoor lighting needs.
The consultation is all about you, your property, and your needs, and there is no obligation to buy. We'll tour your property with you and discuss your preferences, budget, and any concerns or questions you may have. We can also make recommendations on areas where we can enhance beauty, increase safety, and improve the functionality of your space.
Following our discussion, we will provide you with a design proposal and estimate for your consideration. We'll be honest and upfront and there won't be any surprises. The scope of every project is different, depending on the scope of your project we may be able to provide everything during the consultation appointment.
Our installation process is our time to really shine! Our professional landscape lighting system installation team is thoroughly trained and will pay attention to every single detail. We'll perfectly position our efficient LED fixtures and make sure any wires are buried or hidden. When we are finished, we'll clean up and leave your property in better shape than when we found it.
Vendors